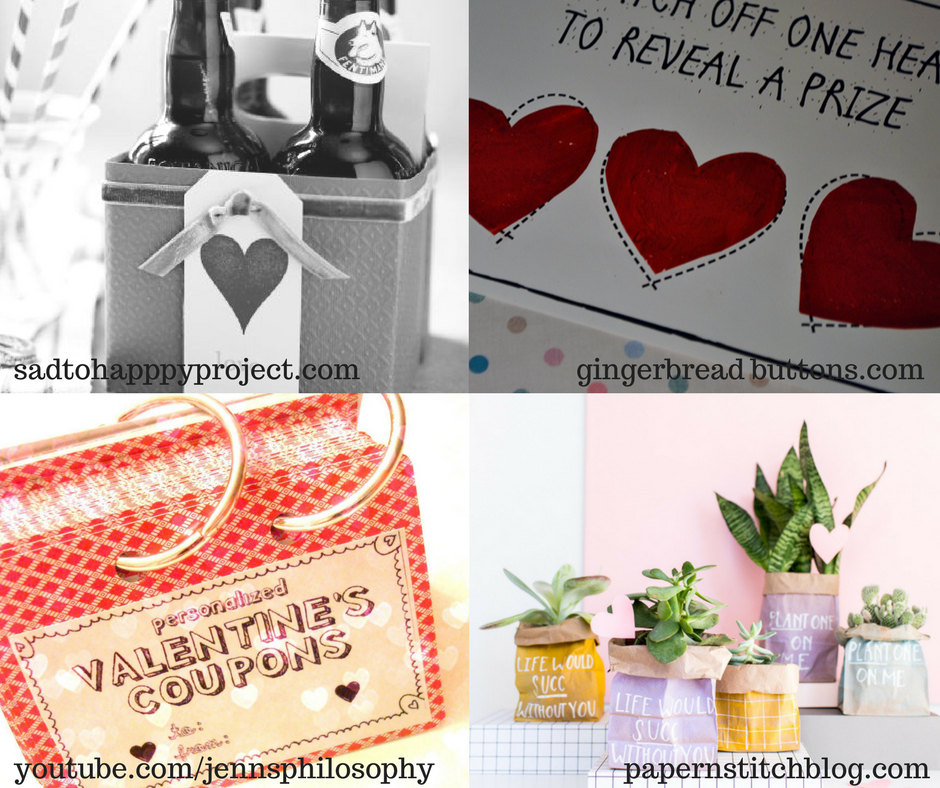 5 DIY Valentine's Day Gifts
Calling all Cupids! Valentine's Day is less than a month away – it always sneaks up on me. This year I'm prepared! When it comes to gifts, it's the thought that counts. Here are a few of my favorite DIY Valentine's gifts that are sure to make your loved one's heart melt.
Scratch Off Card
I hit the lotto with you!
Here's what you'll need for this creative gift:
Pen
A few fun, quirky quotes or phrases
White crayon
Paint (any color will work, but since its Valentine's Day, red or pink will work best)
A blank card that you can make from scratch paper or an index card
Once you have all of your materials at hand, here's how to get started on your Valentine's Day Scratch Off Card:
Make your card (if you have a blank card then jump to step two). To make the card, simply take a piece of paper and fold it in half, then half again.
With your pen, draw three or more hearts (large enough to write in). Write your personalized message in those hearts. Examples: back rub, foot rub, or 10 minute massage. Be creative, and be sure you're ready to give your Valentine their prize!
Take a white crayon and fill-in the hearts. (This will make sure the paint comes off easily when needed.) After filling the hearts, take your desired color of paint and fill the hearts with it as well. You should have your hearts with writing inside, covered with white crayon with a layer of paint over top. Allow to dry over night.
Give your card to a loved one and let them scratch off the paint to reveal their prize!
Chalkboard Heart Frames
Chalk it up to love, or blame it on that arrow Cupid shot your way, this gift is sure to be a hit!
You'll need:
Wooden heart frames (found at any craft store)
Chalkboard paint (spray paint, if possible)
Sandpaper
Chalk
To make your chalkboard heart frame, follow these steps:
Spray two coats of chalkboard paint on the frame (allow 24 hours for it to dry).
To give your frames a rustic, aged look, heavily sand down the painted frames and wipe away the dust with a cloth.
With a piece of white chalk, rub chalk all over the frame. (This sets the chalkboard.) Then lightly wipe away excess chalk with a cloth.
Finally, add some scrapbook paper for a background or place a photo of you and your loved one in the frame. Finish it off with a sweet message on the chalkboard you just created!
Libations of Love
Is your Valentine impossible to shop for? Not to worry, this gift is perfect for them!
You'll need:
Festive paper
Clear tape
Scissors
Ribbon
Bottle, or six-pack, of their favorite drink
Quick and easy, here's how to make this simple and cute Valentine:
Decorate the bottle(s) individually or the outside of the six pack with the festive paper and ribbons.
Make a tag and add a cute message. Example: A day spent without you, is a day wasted.
This makes a great pair with a home-cooked meal and movie night on the couch!
Love Coupon Book
This gift is perfect for the one you adore if you have time for a little brainstorming.
You'll need:
Card stock paper (or a deck of cards)
Markers
Glue
Paintbrush
Modge Podge
Hole-puncher
Binder rings or ribbon (something to bind your coupon book)
Come up with a few inside jokes, things you love and appreciate about your Valentine, or coupon items they can redeem, or things they always want but never get. Examples: Breakfast in bed, Ice cream date, Good for one "I take out the trash." 
Type up or write out your love messages and coupons.
Cut out your messages so they fit nicely on the cards.
Glue your messages to your cards.
Using a paintbrush, paint Modge Podge on the cards and let them dry. (This seals your message and gives the cards a shiny finish.)
Once dry, punch holes in the cards, line them up and create a book secured by the binder rings or ribbon.
Gift your Coupon Book and wait for your loved one to cash in your tokens of love.
Plant One On Me
You make my heart grow!
You'll need:
Paper lunch bags
Spray paint
Markers or paint pens
Small to medium sized plants
Start by spray painting the outside of your paper bags. I suggest outside, in a well ventilated area. I found that if you add rocks or anything heavy to the bottom of each bag, they stand up more easily as you are spray painting. Allow to dry and add a second coat, if needed.
Once dry, flatten the bags to make them easier to write on. Grab a paint pen and write your message. You'll be rolling the top portion of the bag down so you want to make sure you write toward the bottom so your message can be seen. Message ideas: 'You make my heart grow, Valentine.' 'Life would succ without you' (If you use succulents). 
Once your message is complete (and dry), roll down the top of the bag several times. If the first roll tears the bag, it's ok! It will be completely covered by the next rolls.
Finally, add a plant and its ready to be gifted!
The idea is that plant will be repotted after it's given to your Valentine, so you can simply pack it right in the plastic container it came in.
Expressing your love and affection doesn't have to cost you a fortune—and many Valentines prefer the simple gestures. Making your Valentine's Day gift is a great way to show your loved one how much you care, without denting your pocketbook. What are some of your favorite D-I-Y gifts to make?