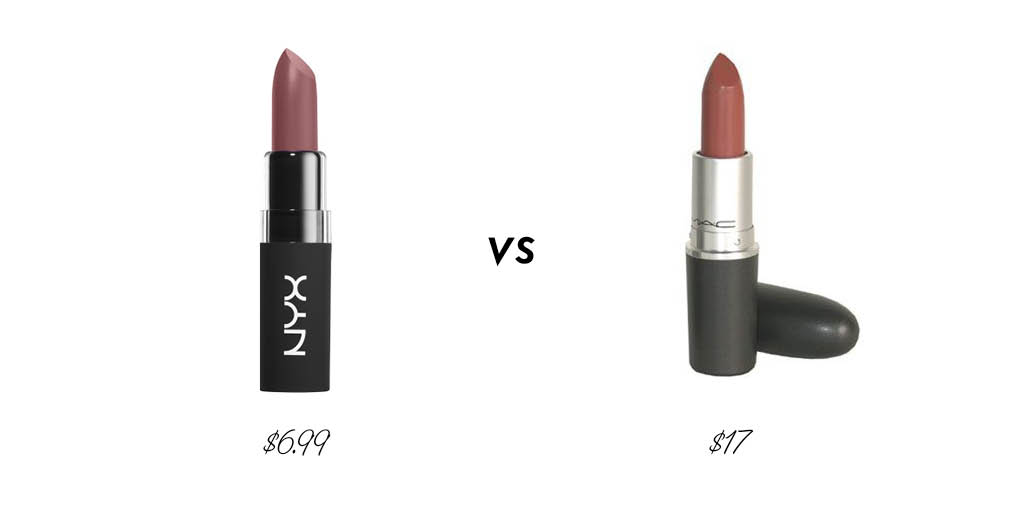 5 Drugstore Dupes for Designer Cosmetics
There's a general assumption that expensive products are the "best," but that's not necessarily true. When it comes time to purchase your beauty favorites, consider these factors.
The beauty industry doesn't want you to know this, but the only MAJOR difference between products is the package. As in fashion, simply purchasing a designer make-up brand is going to cost you. It's a status symbol; having Chanel in your cosmetics bag takes money. When shopping for your favorite cosmetics, you definitely notice a difference in packaging between designer and drugstore cosmetics. Flashy tubes and pretty packaging adds cost. If you feel more beautiful using designer lipstick, you have to be willing to pay for it. The question is: are you paying for the pretty package or a better product?
Concealer and Foundation:
Finding a good "base" layer all depends on the benefits you're looking for and how much help your skin needs. Skin types vary wildly! From oily, to dry, to dark spots, to blemishes, finding the perfect product for full coverage, or color correction is key. With so many factors in play, you could find your perfect match and coverage level anywhere. Remember, when shopping designer products; ask for samples so you can try the product out before committing to the splurge.
Try: Maybelline FIT ME foundation stick (found at Target for $6.99) vs Bobbi Brown's foundation stick that runs for $46 and save nearly $40!
Blush:
A girlfriend of mine once told me "You can never have too much blush." I'm here to tell you: she's right. I think about this with every application as I attempt to get that perfect rosy cheek. Designer blushes tend to have a stronger pigment. If the color isn't as bold as you'd like, then the good news is that blush is buildable—which means there's no sense in paying more for a designer label to get your desired cheek color.
Try: Milani Rose Powder Blush (found at Target for $7.99) vs Tarte Amazonian Clay 12-Hour Blush at $28.
Mascara:
From brand-to-brand, mascara has a similar formula. The key to getting those luscious lashes is finding the best mascara for your needs. Do you need lengthening, volumizing, or defining, or all of the above? Mascaras with softer, fatter brushes have better results for volumizing, while mascara with thinner brushes work wonders for lengthening. When shopping for your next tube, read the package to see what type of brush is included. Maybe you have found the perfect brand, but the applicator is not suited for your needs. Don't be afraid to mix and match applicators to get your desired look.
Try: NYC Sky Rise Lengthening Mascara- Extreme (found at Target for $1.87) vs Benefit They're Real! Lengthening Mascara for $24.
Lip Color:
Gloss, sticks, liners and stains, OH MY! Achieving your desired lip color can be overwhelming. The perfect lipstick relies on pigmentation, and a good wear throughout the day. If you have a go-to color you absolutely love that also lasts all day, it's worth the splurge. For trendier colors, that you aren't willing to fully commit to, grab some at the drugstore to try out.
Try: NYX Velvet Matte Lipstick (found at Target in a variety of basic and trendy colors
for $6.99) vs MAC Lipstick at $17.
Eye-shadow:
Like blush, this product has similar ingredients between brands and is totally buildable. Drugstore eye-shadows can have a chalky feel, with less pigmentation, while designer brands might have a better color payoff with a smoother application (meaning you don't have to apply as much product per wear). Many brands offer color palettes with an array of different colors. Be smart when purchasing palettes, make sure you will actually use the all the colors included and not just a couple.
Try: Maybelline The Blushed Nudes Eye Shadow Palette (found at Target for $7.49) compared to Urban Decay Naked3 Palette for $54.
Break it Down: A good way to determine the true value of your purchase is to calculate the cost per ounce. For example, if you are planning to purchase a tube of lipstick for $21—a "good" price. However, read the packaging. The product only weighs 0.003 ounces, bringing it to cost $7000, per ounce! WHAT THE WHAT?! According to current prices that tube of lipstick is more valuable than an ounce of gold (which is currently $1,218.20 per ounce). Now, unless you consider your lipstick to literally be worth its weight in gold, that's too steep. That $21 lipstick isn't such a great deal after all. Calculating the cost gives you a better idea of the value of the product and whether or not it's worth the added expense.
It's hard not to get swept away in new products with pretty packaging and brand appeal. Knowing when to splurge on designer cosmetics or to get a deal at the drugstore helps you better allocate your beauty budget.
What are some of your favorite ways to save in the beauty department? Do you have any go-to brands for looking pretty on a penny?