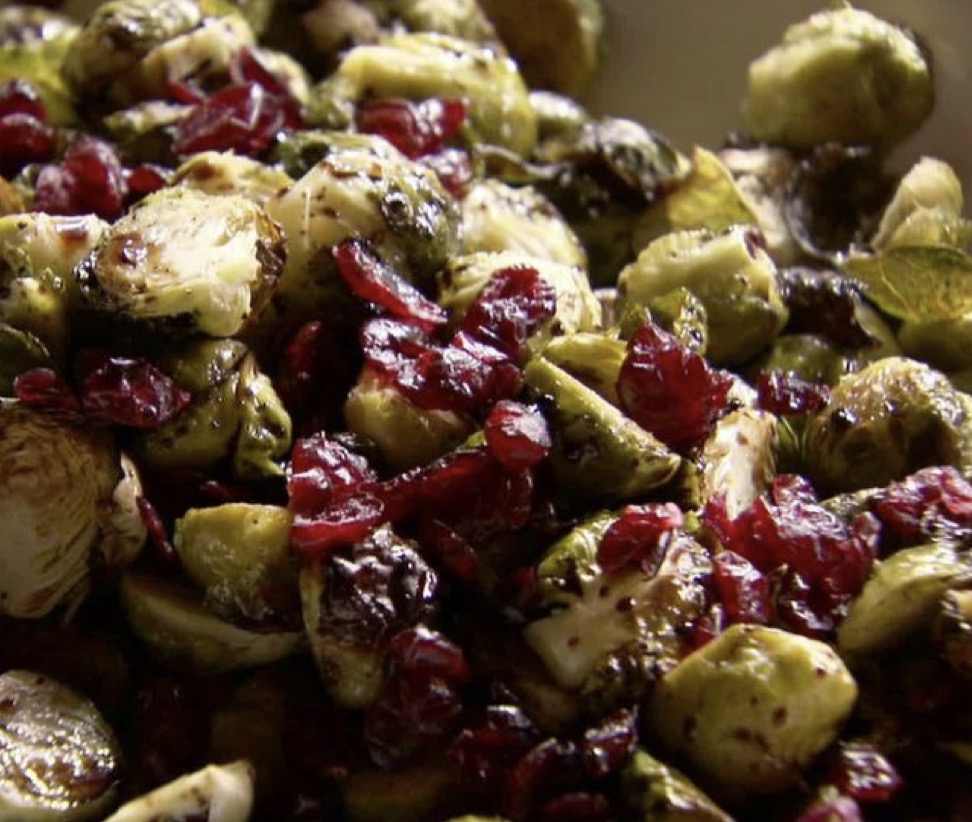 The Lighter Side of Thanksgiving
I know, I know. We all look forward to stuffing and mashed potatoes on Thanksgiving. But that doesn't mean we can't enjoy a couple of light(er) options! Here are a few lighter/vegan/vegetarian options some of you submitted to my Gabby Gives Thanks contest:
Brussels Sprout Cranberry Salad – even my picky eaters like this!
Ingredients:
3 pounds Brussels sprouts
1/2 cup olive oil
1 cup sugar
3/4 cup balsamic vinegar
1 cup dried cranberries
Directions:
Preheat oven to 375 degrees Fahrenheit.
Trim/clean Brussels sprouts, then cut them in half.
Arrange on 2 baking sheets and toss with olive oil. Roast until brown, 25 to 30 minutes.
Combine balsamic vinegar and sugar in a saucepan. Bring to a boil, reduce heat to medium-low and reduce until very thick.
Drizzle the balsamic reduction over the roasted sprouts, then sprinkle on the dried cranberries.
Submitted by: Nicole P.
Vegan Thanksgiving Stuffing – don't knock it till you try it!
Serves 6
Ingredients:
1 pound butternut squash, cubed
1 pound Brussels sprouts, halved
1 medium gala apple, diced into 1/2 inch pieces
2 shallots, thinly sliced
3 tablespoons olive oil, divided into 2 tbsp and 1 tbsp
1 cup onion, diced
10 slices bread of choice: crusty sourdough, dry cornbread, whole grain (if you're gluten free, millet bread from Food For Life will work) Prior to preparing recipe, leave bread out for a day to become slightly dry, then cut into cubes.
1 1/2 cups vegetable broth (plus extra as needed)
2 teaspoons fresh rosemary, chopped
1 teaspoon fresh thyme
1 teaspoon chopped fresh sage
1/3 cup dried cranberries
1/3 cup pecans or walnuts
Sea salt and pepper to taste
Directions:
Heat oven to 400 degrees. Toss the squash, brussels sprouts, apples, and shallots in 2 tbsp oil and season well with salt and pepper. Roast till vegetables are very tender (I actually like my sprouts a bit singed) and remove from oven. Reduce oven heat to 350.
Heat other tbsp oil in a large pot. Sautee the onion and celery till translucent (about 5-8 min). Add the bread cubes and allow them to get golden brown with the veggies in the oil. Add a dash of salt and pepper.
Add the roasted vegetables, vegetable broth, cranberries, pecans, and seasonings. Stir the mix till the broth has almost entirely absorbed in the toasted bread. Transfer to a baking sheet and bake at 350 for about 20 minutes. Serve hot. And delicious.
Submitted by: Blake B.
Broccoli Cauliflower Salad – salad CAN be good, you know!
Ingredients:
1/2 pound bacon, cooked and diced
3 cups raw broccoli, diced
3 cups raw cauliflower, diced
1 small white or red onion, finely chopped
1 cup cranberries
1/3 cup sunflower seeds
1 cup light mayonnaise
1/2 cup white sugar
2 tablespoons white vinegar
Directions:
In a large mixing bowl, add broccoli, cauliflower, bacon, raisins and sunflower seeds. Stir.
In a smaller mixing bowl, add mayonnaise, sugar and white vinegar. Stir until well combined.
Add mayonnaise dressing to broccoli mixture. Stir until well combined.
Keep covered in refrigerator when not serving.
*To make it more fun and festive, you can buy orange or purple cauliflower.  Sometimes, I will substitute pine nuts instead of sunflower seeds and a 1/2 cup of coconut as well.
Submitted by: Candace P.