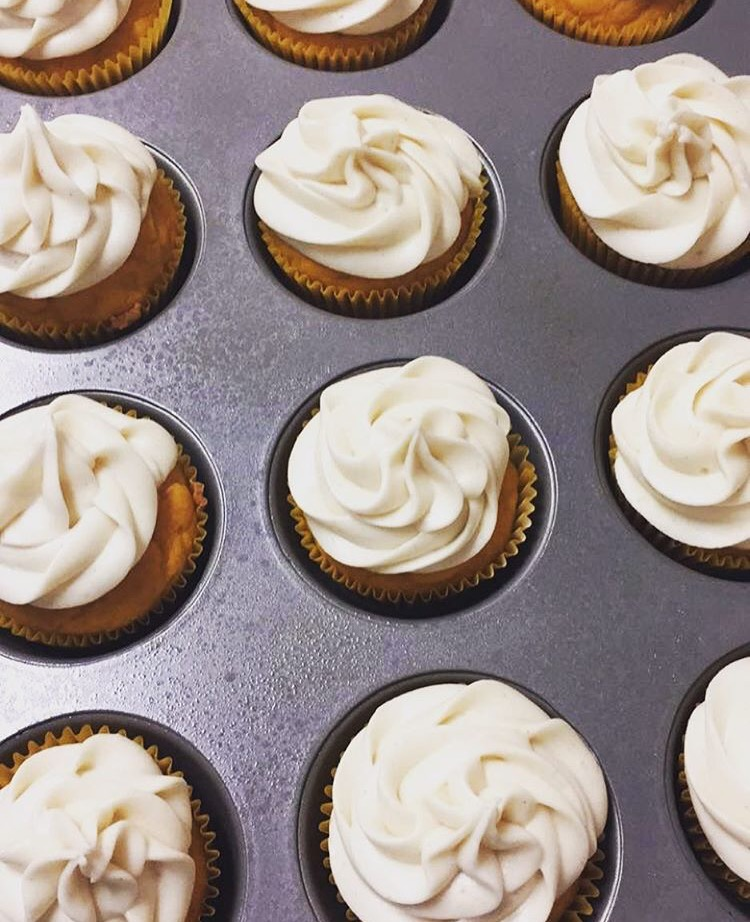 4 Desserts to Try This Thanksgiving (or today)
Thanksgiving and desserts go together like peanut butter and jelly. From pumpkin pie to baked sweet potatoes, I don't discriminate! I do like to keep things interesting and try new recipes from time to time. I received several during my Gabby Gives Thanks contest…
Sweet Potato Casserole – a classic with a bit of a twist.
Ingredients:
3 cups mashed sweet potatoes
3/4 cups sugar
2 eggs, beaten
1 cup evaporated milk
1/4 cup butter
1 teaspoon vanilla extract
1 cup brown sugar
1/3 cup butter, melted
1 cup flaked coconut
1 cup pecans, chopped
Directions:
In a large bowl, beat the sweet potatoes, sugar, eggs, evaporated milk, 1/4 cup of butter and vanilla.
Pour the mixture into a greased 2-quart casserole.
Combine the brown sugar, 1/3 cup of butter, coconut and pecans and mix until crumbly.
Sprinkle over the potato mixture. Bake at 375 for 30 minutes.
Submitted by: Kathy M.
Chocolate Lasagna – for my fellow chocolate lovers.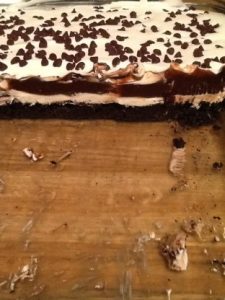 Ingredients:
1 package Oreo cookies, 36 cookies
6 tablespoons butter, melted
1 (8 oz.) package cream cheese, softened
1/4 cup granulated sugar
2 tablespoons milk
2 (8 oz.) tub Cool Whip, divided
1 large (5.9 oz.) package chocolate instant pudding
3 cups milk
1 cup mini chocolate chips
Utensils:
Ziplock bag
9×3 baking dish
2 mixing bowls
Whisk
Directions:
Crush the Oreo cookies. You can place them in a ziplock bag and use rolling pin, your hands or meat pounder to crush.
Pour melted butter into the bag with the crushed Oreos and combine well.
Pour the mixture into a 9×13 baking dish. Cover the bottom of the dish by pressing down on the crust. Place into the refrigerator while preparing the other layers.
In a mixing bowl, mix the cream cheese until creamy. Add sugar and 2 tablespoons milk then mix well. Stir in 1 tub of the Cool Whip.
In another mixing bowl, combine 3 cups of milk and the instant pudding. Whisk for several minutes.
Take Oreo crust out of the refrigerator. Spread cream cheese mix on top of the Oreo crust.
Spread pudding on top of the cream cheese mix layer. Let sit for 5 minutes, until the pudding is firm.
Spread the other tub of Cool Whip on top.
Sprinkle chocolate chips onto of the Cool Whip.
Place in the refrigerator for 4 hours, or overnight before serving. Can be put in the freezer for an hour if time is an issue.
Submitted by: Ronalsha M.
Pistachio Salad – in 3 easy steps.
Ingredients:
1 box of Pistachio Pudding
1 (12 oz.) container Cool Whip
1 (12 oz.) can of pineapple tidbits
1/2 cup chopped pecans
About 1 1/2- 2 cups mini marshmallows
Directions:
Mix pudding and cool whip together until it turns all green.
Add pineapple tidbits (do not drain), mix in nuts and add marshmallows.
Place in refrigerator to chill.
Submitted by: Valerie G.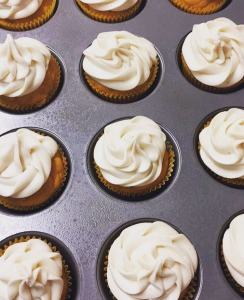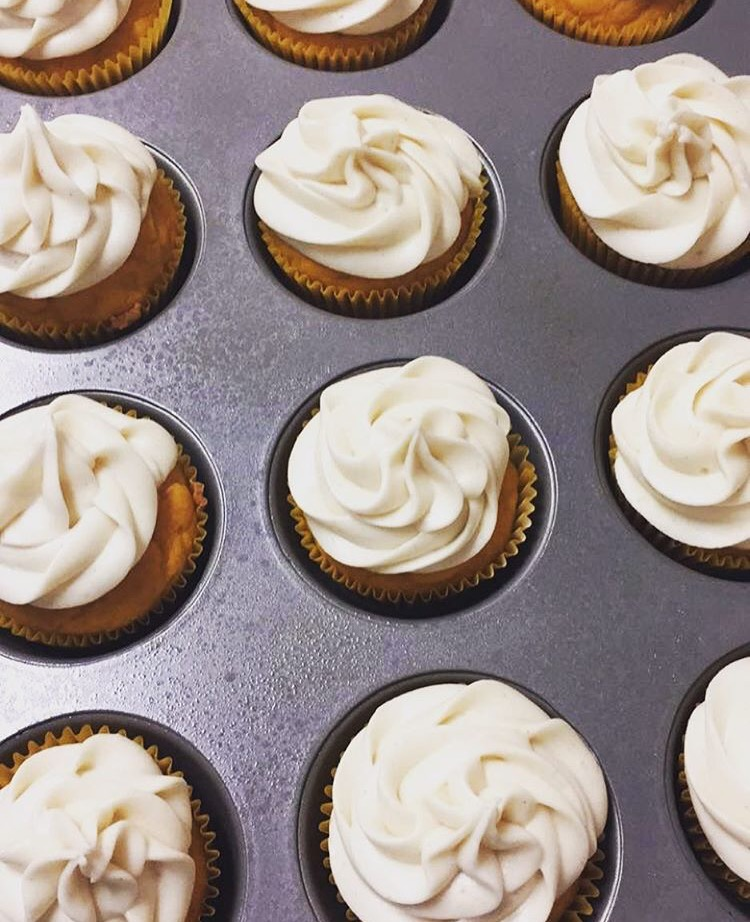 Pumpkin Cupcakes – as if you need a reason to make these.
Ingredients:
1 box of Yellow Cake Mix (I use Pilsbury)
3 eggs
1/2 cup vegetable oil
1 (16 oz.) can of Pumpkin
1 (16 oz.) box of cream cheese, softened
4 cups sifted powdered sugar
1 teaspoon vanilla
Cinnamon or Pumpkin Pie spice for added flavor
Directions:
Cupcakes:
Mix eggs, oil, pumpkin and cake mix and distribute to cupcake pan.
Bake at 350 for 19-23 minutes.
You can add cinnamon or pumpkin pie spice to the batter for extra flavor.
Frosting:
Mix butter and cream cheese until light and fluffy.
Add in vanilla.
Slowly, around a cup at a time) mix in the powdered sugar until it is all fully incorporated. You can add more or less powdered sugar depending on the consistency you like your frosting at. (I add a dash of cinnamon to the frosting for added flavor.)
Transfer frosting to a piping bag and chill for 45 minutes to an hour.
Once your cupcakes have cooled, you may frost.
I keep the cupcakes in the refrigerator until ready to serve. (It helps the frosting keep its consistency.)
Submitted by: Kayla S.
I'm still not sure which one(s) I'm going to make on Thursday. My chocolate loving tastebuds and pumpkin obsessed brain are at war!
What are some of your favorite Thanksgiving dessert recipes?