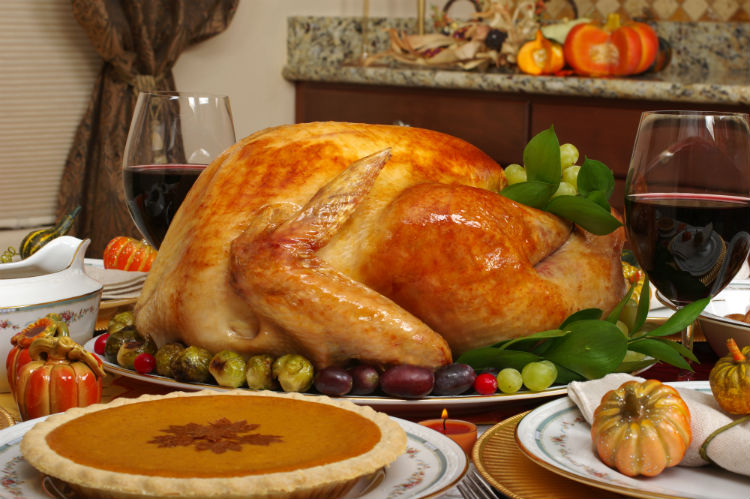 3 Recipes to Try this Thanksgiving
Thanksgiving is right around the corner and I always find myself making the same old dishes. Turkey, stuffing, mashed potatoes. So this year, I reached out to you gals for some Thanksgiving recipes to try. Each submission was entered in a drawing to win 1 of 4 $50 VISA gift cards! Here are a few of my favorites:
Orange Cranberry & Banana Nut Bread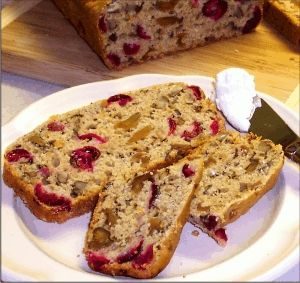 Ingredients:
2 cups all purpose flour
½ cup sugar
½ cup brown sugar
1 ½ teaspoons baking powder
1 teaspoon salt
½ teaspoon baking soda
¼ cup butter, cubed
1 egg
¾ cup orange juice
1 tablespoon grated orange zest
1 ½ cups fresh cranberries split in half
2-3 ripe bananas, mashed
½ chopped nut (desired taste) i.e walnuts/pecans
For an extra spin add ½ cup chocolate morsels
Directions:
In a small bowl mash the bananas to desired consistency.
Add orange juice, zest and eggs to the bananas and mix. Set aside.
Wash and cut cranberries in half. Pat dry and set aside.
In a large bowl combine flour, sugars, baking soda, baking powder and salt. Mix
Cut butter into mixture and mix until resembles coarse crumbs.
Combine wet ingredients to dry ingredients and mix until moisten.
Chop nuts to desired size.
Fold in cranberries and nuts to the mixture. If using chocolate fold in now.
Spoon batter into a greased and floured 8X4 loaf pan.
Heat oven to 350 and bake for 65-70 minutes or until toothpick comes out clean.
Cool pan before removing to wire rack.
Finish cooling before cutting
ENJOY!
Submitted by: Hanna Weaver
Cream Corn Like No Other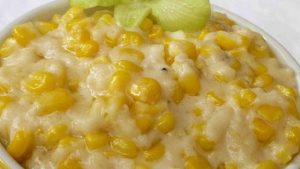 Ingredients:
2 (10 ounce) packages frozen corn kernels, thawed
1 cup heavy cream
1 teaspoon salt
2 tablespoons granulated sugar
¼ teaspoons freshly ground black pepper
2 tablespoons butter
1 cup whole milk
2 tablespoons all-purpose flour
¼ cup freshly grated Parmesan cheese
Directions:
In a skillet over medium heat, combine the corn, cream, salt, sugar, pepper and butter.
Whisk together the miulk and flour, and stir into the corn mixture. Cook stirring over medium heat until the mixture is thickened, and corn is cooked through.
Remove from heat, and stir in the Parmesan cheese until melted. Serve hot.
Submitted by: Debbie Wilson
Recipe by: Diana Yockey
Sweet & Spicy Potato Bake
Ingredients:
4 to 5 large sweet potatoes
1/2 cup maple syrup
2 eggs, slightly beaten
1 teaspoon vanilla extract
1 teaspoon smoked paprika
1 teaspoon cinnamon
1 cup low-fat lactose free milk
1/2 cup (2.5 oz) chopped pecans
1/4 cup brown sugar
1/4 cup whole wheat flour
2 1/2 tablespoons canola oil (or melted butter which is not lactose free)
Directions:
Coat a 2 -quart casserole dish with cooking spray. Preheat oven to 350 degrees. Bake potatoes for 50 minutes or until tender.
Peel potatoes, removing strings, and mash. Stir in syrup, eggs, spices, milk. Pour into prepared dish.
Combine pecans, brown sugar, flour and oil in a bowl; spread topping over potatoes.
Bake uncovered for 30-40 minutes or until the topping is golden brown.
Enjoy!
Submitted by: Michelle Reyes
There's still time! Email me a Thanksgiving recipe at GetYourWorthOn@gmail.com for a chance to win 1 of 4 $50 VISA gift cards! It's as easy as snapping a pic of one of your recipe cards! I'll announce the winners tomorrow afternoon!