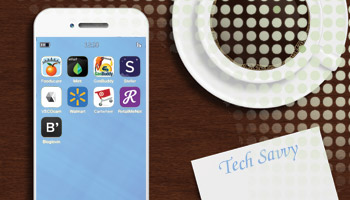 We are all so busy in our daily lives that we are turning to various smartphone features to help us out. There are so many apps out there, but how do you know where to even start? I compiled a list of all the apps I use and can't get enough of. The best part is that all these apps are free!
Fooducate is one I've used for several years now. Anytime I go grocery shopping I use this app to scan the barcodes of the items in the store to see how healthy they are. Fooducate has a grading system and will show you everything there is to know about each item, including if it includes genetically modified organisms. You can even use the app to track your weight loss and search for recipes.
Mint is a great tool for budgeting. The app connects to your financial institution to show everything from your different accounts and credit cards to make understanding your finances easy.
GasBuddy shows you all the nearest gas stations and prices so you can get the best deal. This is great for your upcoming summer road trips!
VSCO Cam and Steller are for all you artists out there! These apps let your creativity flow by turning your photos into works of art which you can then post to social media. There are so many different features available to enhance and make your photos unique, before you know it all your friends will be asking you to take their photos!
Bloglovin is my new guilty pleasure! A friend told me about this app and I am so glad she did! I can follow all of my favorite blogs in one place now. I've even found some new ones too. *check out some of my new favorites!
RetailMeNot has in store or online retail coupons and codes for over 50,000 companies, anything from auto to beauty products, you name it they got it!
Cartwheel by Target and Wal-Mart Savings Catcher is for the modern couponer! The apps allow you to save coupons for items you regularly purchase and at check-out you only have to scan one barcode for all the coupons instead of multiple. If you if don't have time to browse their coupons ahead of time, you can scan your items in the store and add them as you shop.
I hope these apps will help you as much as they have helped me! What are your favorite apps? I'm always looking for new discoveries!