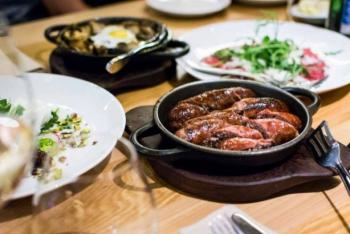 We've all been there. You're trying to save money but you really don't feel like cooking tonight. You want something quick and easy but you'd rather not go through the drive through. You're trying to eat healthy but you really don't feel like throwing together some boring old chicken and veggies again. The excuses can go on and on. It's time to look at the big picture when it comes to dinner (and even lunch)! In my opinion, when it comes to meals there are three things to consider: cost, convenience and flavor!
Cost
The fact of the matter is that dining out is undoubtedly more expensive than eating in. Whether you're a table for two or a family of four, it's going to cost you a pretty penny to dine out, even at a casual burger joint. That's before adding in any sodas, cocktails or appetizers. Don't forget the tax and tip. These expenses add up.
Eating at home can rack up a pretty huge grocery bill as well. Save money by buying in season produce and some things (oats, beans, rice, etc.) in bulk. Be careful not to purchase too much produce in bulk, otherwise you might end up throwing some of it out.
Convenience
Ok, ok fine. Eating out and even going through the drive thru are both a million times more convenient than making a stop at Kroger or Albertsons and then lugging all the groceries home to make a home cooked meal.
Plan your meals ahead of time so you only have to make one stop at the grocery store every week or so. Don't discriminate against leftovers! Today's chicken tacos can also be tomorrow's chicken spaghetti! And my family never seems to mind taking tonight's lasagna to work or school for tomorrow's lunch.
Flavor
I will admit – something about ordering from a menu and having it arrive on a big beautiful plate, still sizzling from the kitchen, seems to make the food taste better. Don't let your eyes fool you! You can totally have a delicious meal cooked right in your kitchen.
Search Pinterest for copycat recipes of your favorite restaurant meals. Give yourself options to help give you that restaurant vibe also! When I make spaghetti, I like to make a dinner salad and garlic bread or bruschetta. Sometimes I'll even sauté some mushrooms (for the non-picky eaters in our house). And seriously, no judgement if you feel like grabbing a bottle of that house chardonnay at the grocery store.
All in all, I will say that I prefer dining out. It's nice to be waited on. But I also think I've come to appreciate it more now that we eat at home. Try to save those fancy dinners for weekends or even special occasions. If you're lucky enough to have your husband or one of the kids help with dinner, it becomes more of a family activity than a chore.
What are some of your tips when it comes to dining out vs. eating in?