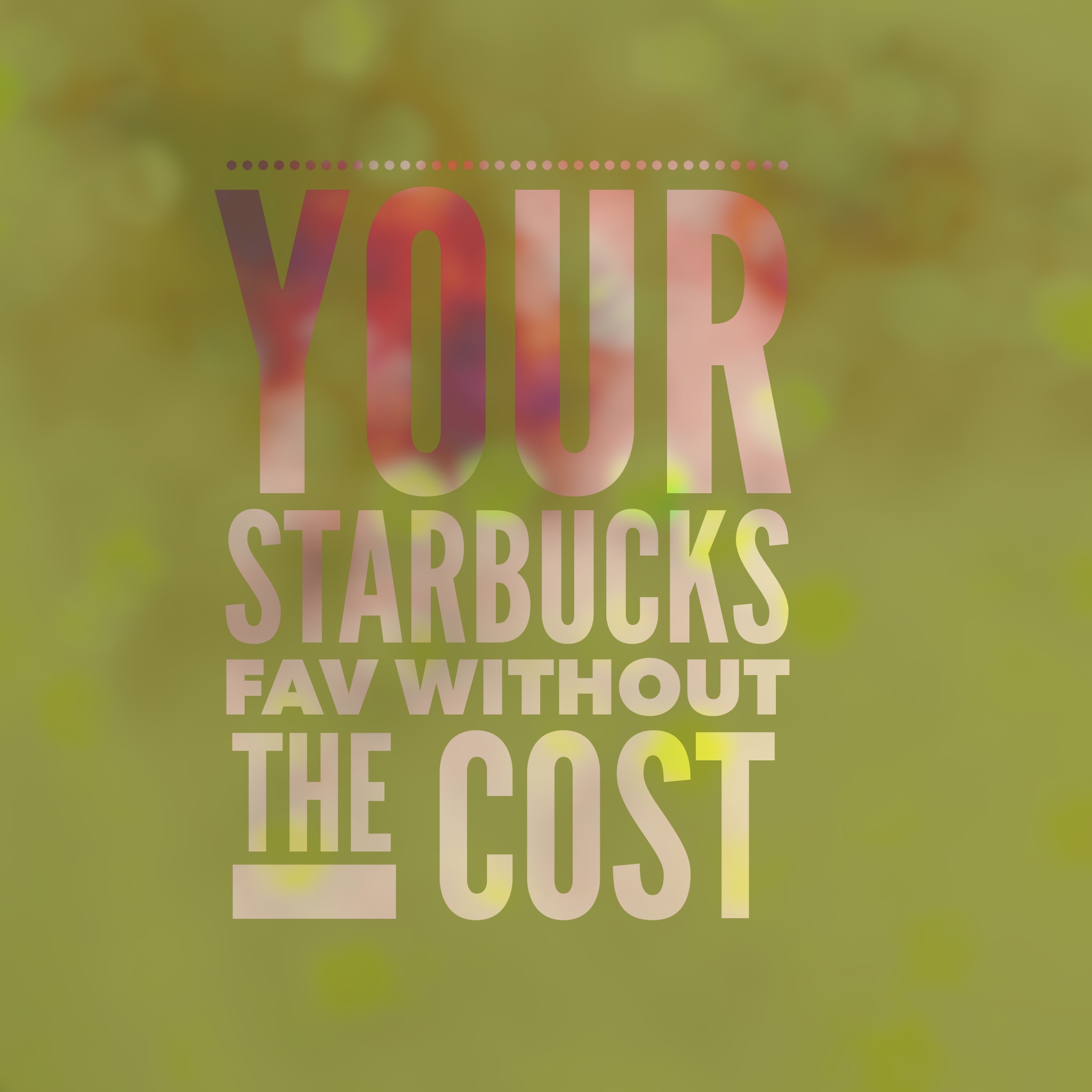 If you're anything like me, you enjoy splurging on an occasional Frappuccino or iced coffee from Starbucks. It varies from person to person, but I usually spend right around five bucks each time I go through the drive-thru. And that's before I add my much needed espresso shot!
It's ok to treat yourself to one of these delicious treats from time to time. But for caffeine addicts, like me, they can become a really expensive habit. Even one or two iced coffees a week adds up quickly.
Here are a few recipes I've tried at home to recreate some of my favorite Starbucks drinks. It's easier to customize them to your liking and the savings are a nice bonus too!
Caramel Frappuccino
Ingredients: 
¾ cup fresh espresso or double strength coffee

¾ cup milk (if you have a dairy allergy or are simply watching your 

calories, try substituting the milk for soy milk or almond milk!)

3 table spoons caramel

Just a pinch of xanthan gum (this keeps the drink from separating)

2 cups of ice
Directions:
Combine coffee and xanthan gum in a blender. Blend for about 30 seconds.

With the xanthan gum blended, add milk, ice and caramel and blend until ice is completely crushed and blended with all of the other ingredients

Top with whipped cream and caramel sauce, if desired. Enjoy!
Iced Chai Tea Latte
Ingredients:
4 cups water

8 chai tea bags

1/4 cup dark brown sugar

1 cup half-and-half

If you're watching your calories, try substituting the half-and-half for soy milk or almond milk!
Directions:
Bring the water to a boil

Once the water has reached a boil, add the chai tea bags and mix in the brown sugar

Remove from heat. 

Pour in half-and-half, almond milk or soy milk and let the chai latte cool to room temperature

Serve over ice!
This recipe makes about four servings.
White Chocolate Mocha – (My personal favorite)
  Ingredients:
2/3 – cup whole milk

1/2 cup white chocolate baking chips

1/2 cup freshly brewed coffee

Whipped cream

Ground cinnamon

White chocolate shavings
Directions:
Combine milk and chocolate chips in a saucepan and heat until the white chocolate chips are completely melted 

Pour about 1/4 cup of the milk mixture into a large coffee mug.

Add about 1/2 cup hot coffee and more of the milk mixture until it reaches the top of the mug.

If desired, top with whipped cream, a sprinkle of cinnamon, or chocolate shavings. Enjoy!