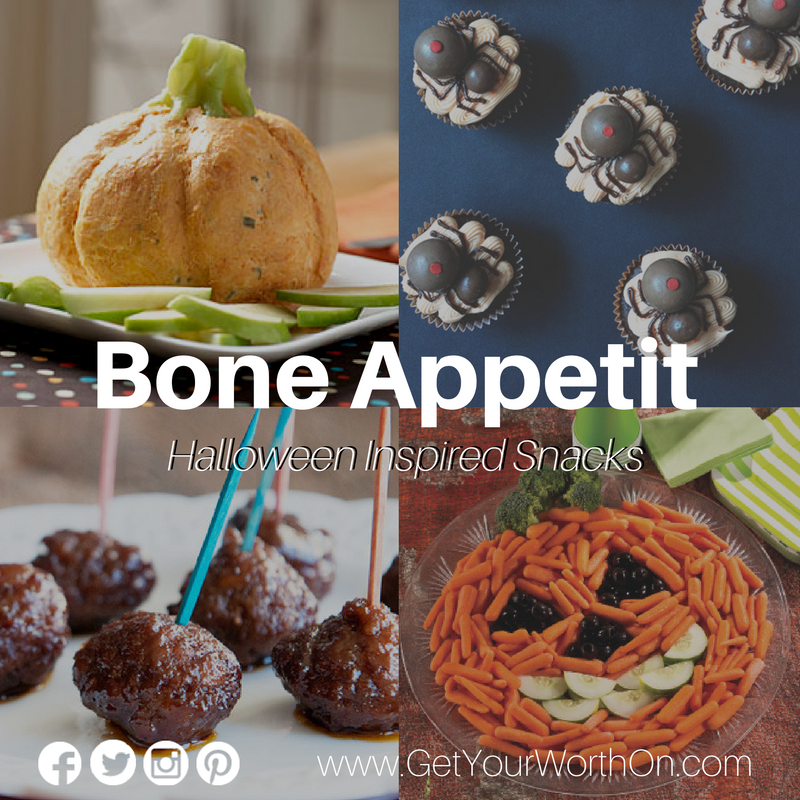 Bone Appetit- Halloween Inspired Snacks
Halloween is one of my favorite holidays. It gives me the opportunity to really share my creative capabilities with everyone around me. From designing the perfect costume, to turning my home into the spookiest haunted house, my favorite is the terrifying treats I craft in my kitchen! Here are a few of my favorite festive treats that will spook your friends, but not your pocketbook.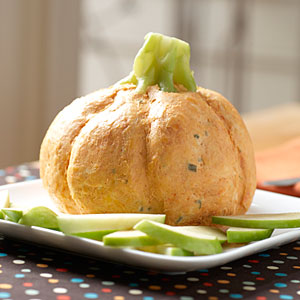 Pumpkin-Shaped Cheese Ball
What you need:
Two 10 ounce blocks of extra sharp cheddar cheese- shredded
One 8 ounce package of cream cheese- softened
Two 4 ounce goat cheese logs-softened
½ tsp pepper
1 braided pretzel stick
Crackers and vegetables of your choosing
Prep:
Stir together the cheeses and pepper. Shape the mixture into a ball that resembles a pumpkin.  Smooth the pumpkin's surface with a spatula or butter knife. Make vertical grooves in the pumpkin, if desired using your fingertips. Press the pretzel into the top of the cheese ball as the stem. Chill until ready to serve with crackers or vegetables.
Monster Toes
What you need:
1 package of Lil' Smokies Sausages
2 packages of biscuit dough
Ketchup- optional
Prep:
Preheat the oven to 350 degrees. Cut the individual biscuits into quarters. Take a quartered piece and wrap it around a sausage leaving a small portion showing at one end. Repeat this process until all of the smokies are wrapped. Once you have all of your smokies wrapped, take a butter knife and slice the outer layer of your smokies to resemble a toe nail. Bake at 350 degrees for 10-12 minutes.  Serve on a platter with a small drop of ketchup on the "nail" to make them appear bloody.
Spider Cupcakes: This one is super simple! Make up a batch of your favorite cupcakes and frost with a light colored icing. Decorate the top to look like a spider by using two black blobs of icing/ or Milk Duds for the body, and licorice strings for the legs. Simply spooky!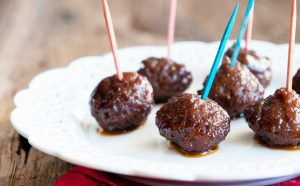 Roasted Zombie Eyeballs
What you need:
3 to 5 lbs of meatballs (pre-cooked, frozen)
One 32 ounce jar of grape jelly
One 12 ounce jar of chili sauce (start with half and increase to taste)
Pinch of cayenne pepper (optional)
Prep:
In a crock pot, combine the grape jelly, chili sauce and meatballs. Let this simmer for about 45 minutes or until the sauce has thickened. Add more chili sauce or cayenne pepper to increase the spiciness. Serve with toothpicks for an added creepy factor.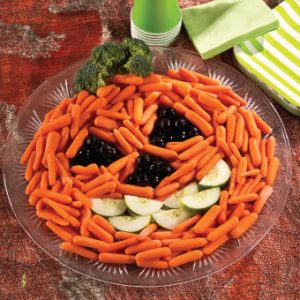 Pumpkin Veggie Tray
What you need:
Baby carrots
Olives
Cucumbers –sliced
Broccoli
Cauliflower
Prep:
On a large platter arrange the carrots to resemble a pumpkin, filling most of the tray. Use the olives to create eyes, and the cucumbers for the mouth. The broccoli will act as the stem of the pumpkin. Finally, use the cauliflower to fill the edge of the tray. Serve with a ranch or dill sauce for dipping.
BONE APPETIT! Hosting the perfect Halloween party by providing the biggest thrills for your friends and family can be a bit haunting. But by using ingredients and items you already have, and adapting them to what you need can really save some major bones. Check out discount or dollar stores to get best deals on seasonally spooky items. What are some of your go-to treats to make your Halloween party boo-tiful?