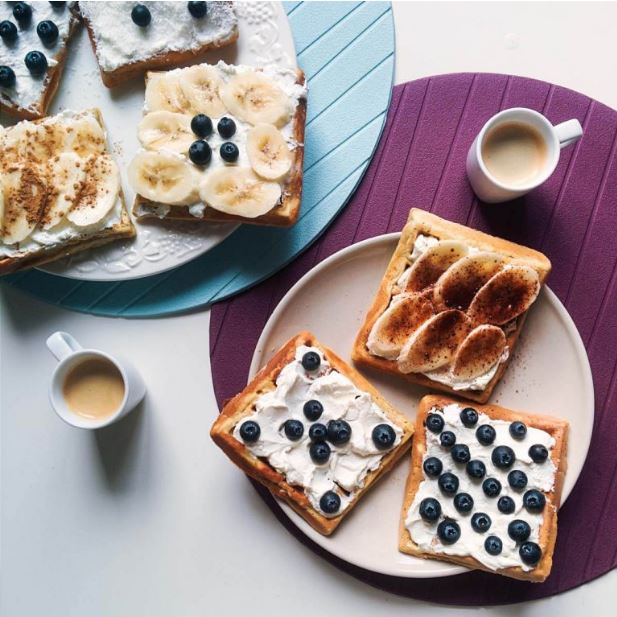 With school fast approaching, you'll soon find yourself running last minute errands to finish things on your "to do list." Getting a meal that isn't fast food seems close to impossible. But don't let that drive thru or take out menu tempt you! Here are three quick easy eats that will make your taste buds do their happy dance and your clock stand still considering the preparation time is 15 minutes or less. So sit back and indulge without having to divulge your time and money.
Breakfast Panini
Ingredients:
2 slices of bread
Peanut butter or almond butter
1 sliced banana
Honey
Cinnamon
Butter or coconut oil
Take one of the slices of bread and place butter or coconut oil on one side and peanut or almond butter on the other. Repeat that on the second slice of bread. Then, place your fry pan on the stove after bringing it to a low medium heat. Place the slices of bread in the pan butter or coconut oil side down. Lightly sprinkle cinnamon over that peanut butter, and then spread out the slices of banana. Drizzle some honey on your banana slices before closing up your panini. This is great for the parent or student on the go with very little prep time without having to fuss about a mess. If you want to add more pizzazz to your breakfast panini, use a bread with infused nuts, add sliced strawberries and sprinkle nutmeg with the cinnamon. Enjoy!
Energy Boost Mix
Ingredients:
Flax seeds, pumpkin seeds, sunflower seeds
Almonds, cashews, pecans, peanuts, walnuts
Raisins, mango slices, banana chips, dried cranberries
M&M's, mini chocolate chips, mini marshmallows
Granola, pretzels, popcorn, mini rice cakes
*Pick and choose which ingredients you want-you do not have to use them all*
Taking the ingredients above, mix them all in a giant bowl. Now that you have a well-blended trail mix, pack a sandwich size bag of this Energy Boost Mix for a mid-morning or afternoon snack. Between the seeds nuts and dried fruit you are destined for a spike of energy. Happy snacking!
Cucumber Sammy
Ingredients:

Bread (no crust)
Small lemon
Cucumber
Softened cream cheese
Dill
Salt & black pepper
In a medium sized bowl combine about 4 ounces of cream cheese, 2-3 tablespoons of fresh dill and the juice from the one small lemon. Then, add your salt and pepper to your liking to compliment the fresh dill. Grab your slices of bread and spread a light layer of your cream cheese mixture. Top the thinly sliced cucumbers and you have the most delicious cucumber sandwich. This should make about 3-4 in total. Tip-eat as soon as possible or your bread will go soggy!
I hope these meals are quick for the time sensitive mom that you are. Let us know of any great meals that you would like to share that have made your life easier and stomach happier in the comments below.