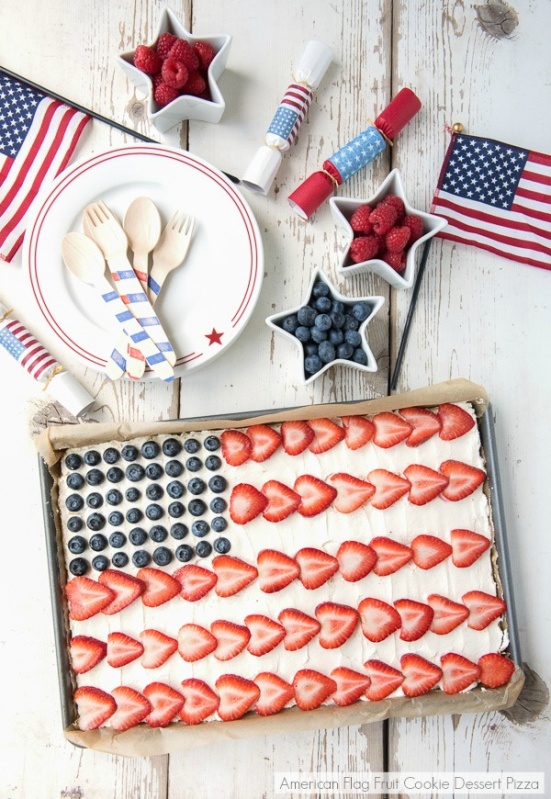 With Independence Day right around the corner, I thought I'd share some of my favorite patriotic treat recipes! These make great desserts for 4th of July parties and barbeques! 
Fruit Pizza – This is one of my favorite go-to summer recipes; it's simple and easy enough for even the most baking challenged person you know.
What you will need: 
One roll of sugar cookie dough

One 8oz box of cream cheese (room temperature)

One 7oz jar of Marshmallow fluff

One package of fresh strawberries

One package of fresh blueberries
Directions:
Preheat oven to 350 degrees.

Spray a rectangle baking sheet with a non-stick cooking spray and evenly roll the sugar cookie dough across the pan. Try to make sure you don't have any cracks throughout the dough.

Bake your cookie for 14-18 minutes. I prefer a softer cookie so I tend to bake mine for around 14 minutes. If you prefer a crunchier cookie you can bake it a little longer.

While your cookie is baking, in a medium mixing bowl beat together the cream cheese and marshmallow fluff.

Wash your strawberries and blueberries. Slice your strawberries.

When your cookie is done and cool, use a spatula to even spread the cream cheese/marshmallow fluff mixture across the top of your cookie. 
Now is the fun part; you get to decorate the top of your cookie! If you're not using this recipe for Fourth of July, feel free to use any fruit you like and any decorative pattern. Since we're celebrating Independence Day, we will make a flag.
   7. With your pan horizontal, start in the top left corner and make a rectangle with the blueberries, leaving a small space in between each one to represent the          stars. Once your blueberries are in place, you can now apply your stripes. Starting at the top of the pan, make a row of strawberries by slightly overlapping each one,  leaving about a ½ inch between each row. Continue down the pan until you have all of your stripes complete.
  8. Once complete, cover with plastic wrap, and chill until you're ready to serve.
Firecracker Rice Krispies – A fun and festive twist on this classic treat. 
You will need:
Rice Krispie Cereal

Mini Marshmallows

Butter (Sweet cream, Salted)

Food Coloring — Red, Pink and Blue

Large Cookie sheet
Directions:
You will need to make three batches of Rice Krispie Treat mixture in red, white, and blue:
Melt 3 tablespoons of butter in a medium sauce pan on medium heat. I prefer soft and buttery Rice Krispie Treats so I used more butter in my recipe than most.

Add 3 cups of mini marshmallows to the melted butter.

When adding the food coloring, I have found it's best to add the color to the melted butter/ marshmallow mixture. 

Red- 6 drops of red food coloring. 

Blue- 8 drops of blue, 2 drops of pink, and 1 drop of red food coloring. I added the pink and red to counteract the "yellow" of the Rice Krispie cereal. If you only add blue you end up with more of an aqua color. 

White- no food coloring.

Add 3 cups of Rice Krispie cereal to each of the marshmallow mixtures. 

Fold the Rice Krispie Cereal into the marshmallow mixture using a spatula until the cereal is completely covered.

Pour the first batch of Rice Krispie Treat mixture into a lightly buttered large cookie sheet.

Press the mixture down onto the cookie sheet so that it's only filled about 1/3 of the way up.

Do the same thing with the red mixture, again only using the next 1/3 of the sheet.

Finally, repeat the process with the blue mixture.

DON'T PRESS THE THREE COLORS TOGETHER!

Allow the strips to cool for 10 to 15 minutes. 

Carefully remove the red, white, and blue Rice Krispie Treat mixture from the cookie sheet and stack them on a piece of wax paper. Red on top, white in the middle and blue on the bottom.

Cut the stack of Rice Krispie Treats down the middle length-wise, then stack them again. You will now have six layers.

Slice the six layer loaf into approximate 1 inch sections. You can trim the sides so they are even. 
What are some of your favorite treats to share with your family and friends on Independence Day?