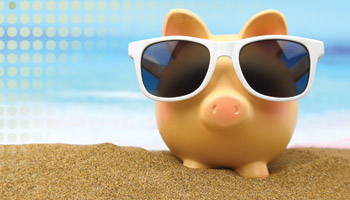 Throwback Thursday: Summer Vacation on a Budget
I have been giving a lot of thought lately of how I would like to spend my summer vacation… and now it is here! You
 can plan a fun vacation on a tight budget
;
 it just takes a little planning and some smart thinking in order to pull it off.

  
When planning family vacations start with researching your destination to help you save money once it's finally here!
Research.  Figure out what type of vacation you and your girlfriends or family would enjoy. Do you want a relaxing vacation on the beach, a site seeing vacation, an adventurous vacation involving biking, hiking or other physical activities? Involve friends and family when planning activities that will be fun for everyone. For inspiration, go to websites to browse travel photos, journals and videos posted by real people sharing their experiences.
Planning.  Once you make the decision of where you would like to go and select a hotel, check to see if the hotel has a loyalty program and join.  Joining a loyalty program can score you perks like free Internet service, fresh flowers on arrival and a free daily newspaper. If you are on a tight budget you may want to consider driving to your destination. If you plan on flying to your destination start checking airline prices as early as possible. Keep in mind that the day of the week and the time of day you travel can have an impact on the price of the ticket as well as the day you purchase your ticket. I also suggest using a discount travel site like Expedia, Orbitz or Kayak to compare prices and travel plans.
Things to consider.  If you are trying to save money consider an all inclusive resort or a cruise.  Another option if heading to the beach or to the mountains would be to rent a condo. You are able to save money by preparing meals yourself which can be a huge savings if you have a large group.  If you are traveling with another large group or family, you may want to consider renting a larger condo or a house and splitting the cost.
If you are going to use the Internet to plan your vacation be sure to use a reputable site.

  

If you find a deal that seems to be a great bargain and not from one of the reputable sites, then check it out with the BBB.
If you do not have time to plan your vacation and it is too overwhelming then you can always find a trusted travel agent to do the work for you.

  

I hope you plan on taking a fabulous vacation this summer and that you did budget for your vacation.