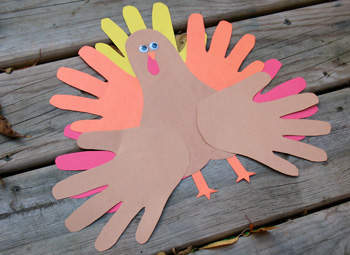 3 Thanksgiving Decorations to Make With Your Kids
Thanksgiving is just two weeks away! Can you believe it? While everyone is thinking about all the delicious food to be eaten, I decided to take some time and share some decorations for this fattening holiday. My family and I love arts and crafts even though we may not be the best. Here are some things I'm making with my kids this year to put up with Thanksgiving dinner.
Turkey Hands — The easiest and most popular of course are the turkey hands. Trace the kids' hands and cut out the hand print. That will be the turkeys' bodies. You can draw on eyes and a mouth or use googly eyes and maybe some foam. Using more construction paper or even real feathers, give the turkey some more color and some more feathers.
Thankful Turkeys — Cut pieces of construction paper into the feathers for the turkey. Have the kids write things down on the feather that they are thankful for, usually 5-8 feathers per turkey. With toilet paper rolls as the body, glue the feathers onto the roll. Add two googly eyes, a beak, and some feet and you have a thankful turkey!
Thanksgiving Banner — Using just construction paper and some string or yarn, write phrases like "Happy Thanksgiving" or "Be thankful" or "Give thanks" one letter each on a piece of paper. Then string them together and hang them up. Easy and quick!
 What are some decorations you'll be making and putting up this year?