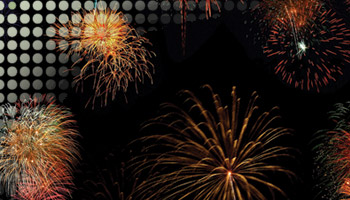 Throwback Thursday: Fun Independence Day Ideas
July 4th is the day to celebrate our country's independence. It is a chance for families and friends to get together and enjoy some fun. I've put together some ideas for fun activities my family enjoys on this holiday!
Boom… Pop! Ahhh!! — My family and I always enjoy a good fireworks display and there are so many in and around the Dallas Fort Worth area that have free admissions. For example, The Ballpark in Arlington always has a firework show on the 4th of July, so go out to eat in a nice air-conditioned restaurant in North Arlington, and then tailgate in their parking lot. Be sure and face the direction of the Ballpark. You can turn on your radio or ITunes to whatever music you'd love to hear. All you need to enjoy the evening is a blanket, chairs, drinks, snacks, and of course good company
Yum — I always get together with my family for a big cookout. Each family member brings one of their favorite summer dishes to share. I usually end up overeating because I have to sample some of everything.  The thing I look forward to most at our family cookouts is the dessert table. There are so many different delicious treats that are fun to make and eat. Whether it's star shaped cookies or red and blue jello for the kids, I usually make at least one trip (sometimes two) back to the dessert table to sample these sweets. This year, I'm hoping to make a sheet cake with white frosting, then using blueberries and strawberries to decorate so my cake will look like our great Country's flag. Stars and Stripes forever!
Simple DIY decorations — Fourth of July is the time to decorate your home in some good old red, white and blue. Get the whole family involved for a family DIY project. Combine homemade items and fun favors from the party store for an unforgettable Independence Day. Last year I created three Patriotic apothecary jars as my DIY project. I used colored beans, flowers and vase fillers. So fun! Also check out my July 4th Decorations blog and Pinterest board for more ideas.
Drink it up — I know it's not a really a family activity but with all the fun in the scorching sun, it's important to stay hydrated. Yummy food should be accompanied by refreshing summer time drinks. Sweet tea and homemade lemonade are 2 of my family's favorites. We also like to mix it up sometimes by adding other fruits and herbs to these drinks to see what cool thirst quenchers we can come up with. One of my personal favorites is ice cold water with fresh slices of lemon and strawberries.
Relaxing at home — Honestly, July 4th doesn't have to be a crazy huge family ordeal. Just relaxing on the couch and watching some TV is fun for me too. Many local news channels will air the fireworks live for those who don't want to fight the traffic for popular fireworks spots. So get on the couch, sit back with a cold beverage, and turn on the TV. It's the easiest and least stressful way to enjoy the holiday!
What are some activities you and your family do for the Fourth of July? Be sure and share with me in the comments!