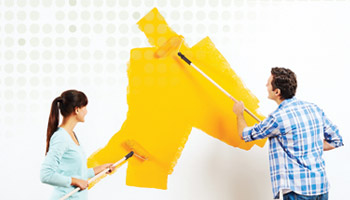 Spring is finally here and it's time to freshen up your home with a few pops of color. No one wants to spend an arm and a leg for temporary embellishments. So whether it's a few staple pieces or a complete makeover, here are a few tips to get your home ready for the new season.
It seems like every weekend there's a neighborhood holding a garage sale. Sort through the picture frame section and find a couple of pieces that stand out and that are in your price range. Don't like the color? Maybe the edges are a little worn. Make some time for a little D.I.Y. Stop at a home improvement store for paint and/or brushes to tough up your second-hand finds! (Hint: Look for sections with marked down paint where they either mixed too much or used the wrong color. You'll definitely save some money.) You can coat the frames lightly for an antique look or heavily for a solid bold appearance. Either way, it was practically a steal and you'll know that no one else has it!

Beyond getting things out of the attic or basement for decorations for certain holidays, one of the cheapest and most budget friendly things you can do is shop the other rooms in your home. Look for those bright statement pieces hidden away and bring them out to see if they work with the rest of your furnishings. Don't be afraid to mix and match. If you absolutely can't find anything in your own home, it might be time to shop.

If that's the case, one of my favorite places to go is a local dollar store to make my own centerpieces. You can find inexpensive vases, runners, floral arrangements and so much more all for under five dollars! Keep in mind, it's not only the inside that matters!

 

Dollar stores usually have beautiful outdoor ornamentation that you can place in the garden in your front yard or place door hangers with welcoming signs. That way your entire home is well rounded and ready for spring. Be proud to host that Sunday brunch!
If you are struggling to decorate your home, don't be afraid to ask family or friends what they think of your new findings. Hopefully you will be able to liven up your living space without breaking the bank. Good luck and happy decorating!