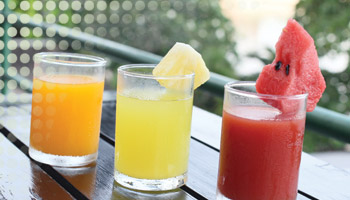 Throwback Thursday: Summer Snacks to Keep You Cool
Living in Texas during the summer is no joke. The sun is constantly beating down on you. With many consecutive days that reach over 100 degrees, it is a necessity to stay cool and hydrated. I've decided to share some of my favorite snacks that help my family and I stay cool in the heat.
Ice cream, frozen yogurt, or gelato — There are countless flavors of this creamy goodness. You can grab pints (or other sizes) at the supermarket or you can go to ice cream stores for more mix-ins than you might have at home. There are also ice cream sandwiches and ice cream cones. Just talking about these makes me want to go to the store and grab a pint or four.
Snow cones — These are some of my family's favorite treats. Depending on your snow cone provider, you can have almost any flavor imaginable and even mix them for more than one flavor in your cup. Thank goodness for shaved ice!
Popsicles — These are easy for a quick cool bite to-go or just hanging out. The store bought ones can be filled with unhealthy sugars though so why not try to make some of your own with fresh fruit! Here's a recipe you can try out with the kids this year: Lemonade Popsicles with Mixed Fruits.
Salads and veggies — There's nothing lighter than sitting down and eating a big, beautiful bowl of fresh greens. Cucumbers are my favorite to snack on – easy to prepare and easy to eat. Fruits are also a healthy, cool snack for any time of day!
Fruits — Watermelons, strawberries, grapefruit, and tons of other fruits can help keep you cool. Plus they have vitamins that you need. Look at the picture at the top of this blog post for a different way to cut your watermelon! A fun summer activity might also be to go pick the fruits yourself! Look online for places near you that might offer fruit fields (like strawberries) for some family fun.
Ice water — I know this isn't exactly a snack but a glass of ice cold water can be the best remedy after a long day of fun in the sun!
What are some of your favorite foods that you like to eat during the summer? Share with me in the comments below!