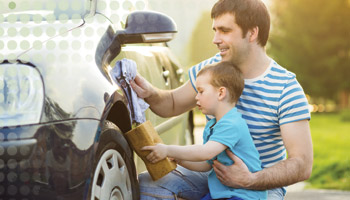 June is here. It's time to celebrate DAD! Father's Day is June 21st and I have the perfect gift for the dad that has everything. If you have young children, creating a special gift just for Dad is always fun.  For the older kids, sometimes a gift is a bit more challenging. In an effort to ease the stress — and save time — I've come up with a few gift ideas.
Use your child's voice. Their voice and perspective is precious. Capture this time in their life by having some fun describing Dad in your children's voice. Use this Mad Lib from 99 Crafting as a guide for a cute story.
Family travels with Dad. Like to travel with Dad? Print out a map and color the state you'd like to visit with him. Add a personal touch by listing the activities you'd like to complete while there. Traveling with Dad Source: Real Simple.
Plan a surprise outing. If your Dad is like mine, he already has everything. Take Dad to the ballgame, go go-cart riding, spend the day at the batting cages or plan a day at the lake. Basically just spend some quality time with him.
Dinner is on me. Not crafty? Plan ahead and make Dad his favorite meal. Whether breakfast, lunch, dinner or dessert – food is always a welcome gift.
Use those electronics! Does your Dad live far away? Use technology to bring him closer this Father's Day. Try video calling instead of just calling, send an animated e-card with pictures of you and Dad together.
Don't plan anything. Simply spend the day doing things Dad wants. His chores, watching a game or teaching him how to use all those electronics he got for Christmas and Father's Day last year.
Dad can be picky, but with some forethought and early planning, finding the perfect gift to show him how much he means to you can be fairly easy. You don't have to buy, make or give anything to make the day special. Spend the day with Dad, enjoy being together.  Take an interest in what makes him happy, teach him something new, share a secret, toss the ball — just be there.
For more Father's Day inspiration, visit my Pinterest boards.
So, how will you be celebrating Dad this year?