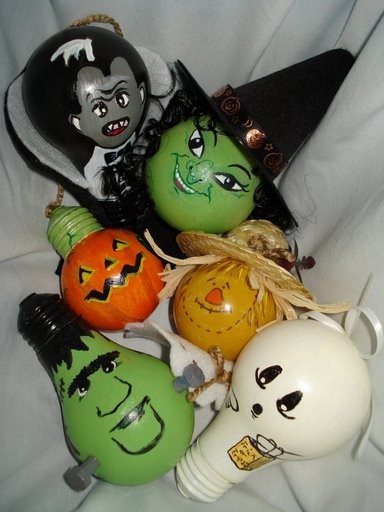 2 Repurposed Items for Halloween Decorations (or any Holiday!)
In line with my last two posts (one about repurposed items and one about Halloween), I thought I'd mix the two and share a post about decorating with repurposed items for Halloween! This year, I'm looking to decorate for Halloween without the scary total cost. So I thought I'd go around the house and use things that are just collecting dust.
Light bulbs — Last week I talked about repurposing burnt out light bulbs as vases. This week, you can take those vases and old light bulbs and paint them. Some ideas would be painting them like Jack-O-Lanterns, Christmas tree ornaments, or turkeys and adding some feathers. Then just use a little bit of wire to create a way to hang your newly painted bulbs.
Chairs — This might not be a common one but it could be a really fun one! If you have any extra chairs that you'll be using during the holiday season, you could easily paint the seat or recover it using holiday fabric for a holiday seat. Whether it's more pumpkins or ghosts and ghouls, an entire Thanksgiving feast, or the scene of a Christmas tree in the snow, it'll brighten up the act of plopping down on a chair.
What are some ideas that you have or are planning for decorating this Halloween?