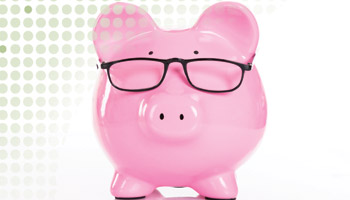 If you're like me, then you have at least one special graduate to celebrate this year. And let me guess: you really want to do something worth-while to honor them. This year, I have two family members graduating: one from high school, and one from college. It can be hard to budget when you're a gift-giver, but it's not impossible!  Remember, part of being a good example to the younger generations is showcasing how to stretch a dollar responsibly. So here are some of my favorite gift ideas for honoring the graduates in my life.
Advice Book (Heavy on sentimentalities and creativity): Purchase a blank journal from a craft store. Then ask family members and close friends one question: "What do you wish you knew as an 18-year-old?"  Write their answers in various colors in the journal—be sure to give credit for each piece of advice. If budget allows for it, then place some cash in arbitrary places within the journal. As your grad flips through pages, they gain wisdom and some funds for fun—making your gift both short-term and long lasting!
Gift Card Bundle (The new classic): If you're a gal on the go and really need something quick, then consider purchasing a set of gift cards to local restaurants.  Divide your gift budget among a few places where you and your graduate have shared memories! You can ask around to see what's popular amongst the younger crowd, but you probably can't go wrong with Kincaid's, Uncle Julio's (on Camp Bowie), Panera Bread, or Bravo! Maybe make it exciting for the graduate and wrap the gift cards in larger boxes. 
Savings Account (A little responsibility can be good): Want to pass along necessary financial knowledge?  It's always a good time to learn about finances—especially because your graduate is embarking on their journey through adulthood. Consider a gift that gives back to the graduate (in the form of dividends) and teach them the value of financial discipline. Contact your FTWCCU branch about the types of accounts that will be best and boost their savings! Another option is to open a Certificate of Deposit account (CD Account). That way, your graduate can rest easy knowing that you gave them a safety net for their financial future. 
Souvenirs (From Home Sweet Home): Is your sweet graduate leaving the nest? Are they going across the state, or dare I say, even leaving Texas? One of the most fun ways to honor where your graduate is going is to remind them of where they came from. Grab a bottle of locally made BBQ sauce, a bumper sticker with a catchy phrase, a gift card to a locally owned restaurant (to entice them to come back for a visit), a hardback book on their hometown's history,  and a neutral wall décor item that can easily transition with them as their decorating taste surely develops. Your graduate will appreciate the little things when they're home sick.
Survival Kit (Don't just survive—THRIVE!)These are all the rage right now. There are survival kits for everything!  Did you go off to college and desperately needed something that you forgot? Now's the time to pay that wisdom forward! Gather a collection of fun things that a high schooler going to college will need, or that a recent college graduation will need to succeed. 

College Freshman Survival Kit

: Shower Shoes, flameless candles, microwavable foods in bulk, ear plugs, maps of the new city/campus, a gas card, a card with emergency contact information, the book "Oh  the Places You'll Go," tape/tacks for decorating, a robe, a book on time management.

Real Life Survival Kit

: Their own Netflix account (finally!), a lightweight vacuum cleaner, a gift card to professional clothing stores, beginner's cookbooks with a crock pot, budgeting spreadsheets, a tool kit, wine glasses, coffee cups and coffee, or set them up with a networking organization!
One thing is for sure: your graduate will be grateful for your time and thought behind whatever you choose. The best gift available is to share this happy time with them regardless of your gift giving budget.