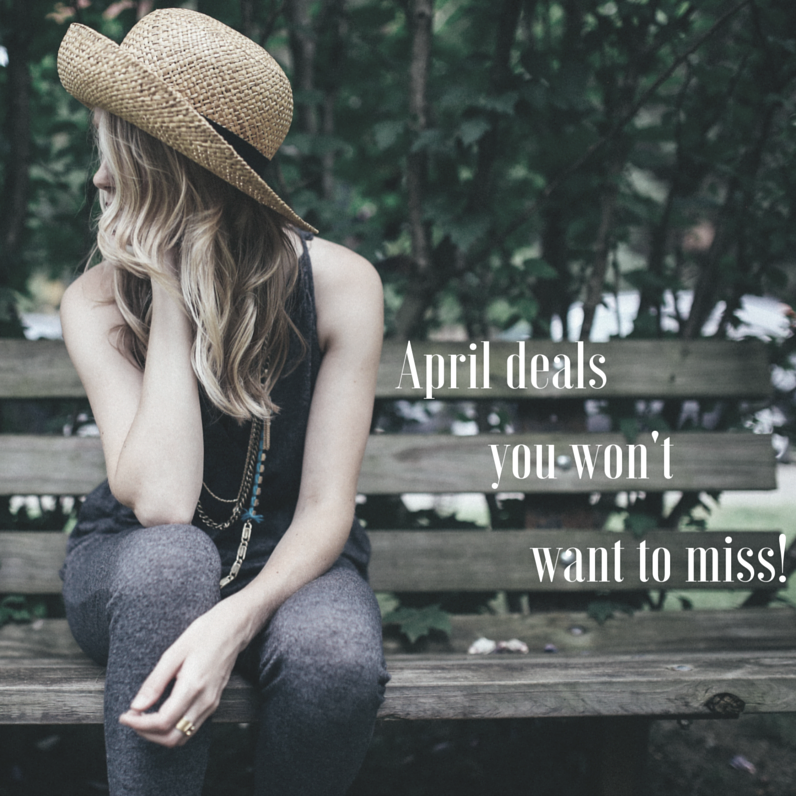 April Deals You Won't Want to Miss!
Whether you're planning a Summer Vacation, attending a wedding or graduation or just looking to liven up your wardrobe, April is the best month to take advantage of some great deals.
With summer quickly approaching, many airline and travel sites will run specials on discounted airfare for the summer months. Here are a few tips I've found when planning my next adventures:
I've realized I find the cheapest flights when I look to travel mid-week, Tuesday through Thursday. 

I also discovered flights are typically cheaper when I browse those days as well, so be flexible in your search. 

While the bundle travel sites (Expedia, Travelocity, and Hotwire) can be helpful, remember it can be cheaper to cut out the middle man. (Some airlines don't post their prices on third-party sites.)
 If you prefer to drive rather than fly, you're in luck! April is National Car Care month!  Be on the look-out for service centers running promotions on tune-ups and discounted tires.
Jiffy Lube has an online coupon for a Signature Service Oil Change for $10
Goodyear Tire is offering several online coupons as well! From $20 off brake services to $15 off computerized alignment!
Wedding and Graduation seasons are upon us, which means you'll probably be purchasing at least one gift for the occasion. Retailers will feature promotions on pots, pans, china, cookware and other small kitchen appliances.
Target has several online sales for the season! (Hint: Cartwheel is an awesome app for keeping track of Target coupons and offers!)
Free shipping on orders over $25. 

Furniture – save $25 when you spend $125 with code ROOM 

Home decor-save $10 when you spend $50 with code HOME
If you're anything like me, you find yourself standing in your closet thinking,  "I HAVE NOTHING TO WEAR!" Well my friend, I have some good news. With most designers and retailers rolling out the new spring apparel in January and February, that means come April you can expect moderate discounts that will take anywhere from 15% to 30% off. If you wait a little later in the month you may even be lucky enough to find discounts as high as 50% off.  While you're bargain shopping, remember to think for the future. We had a relatively mild winter this year so retailers are going to be left with an array of cold-weather clothing and accessories, and they're usually pretty eager to clear out this inventory. 
Macy's has a promotion at the moment for a discount of 20% when you buy online and pick-up in store. That's a great way to save on shipping and your purchase!
These are just a few deals I find myself coming across this month. What are some of your favorite April deals?