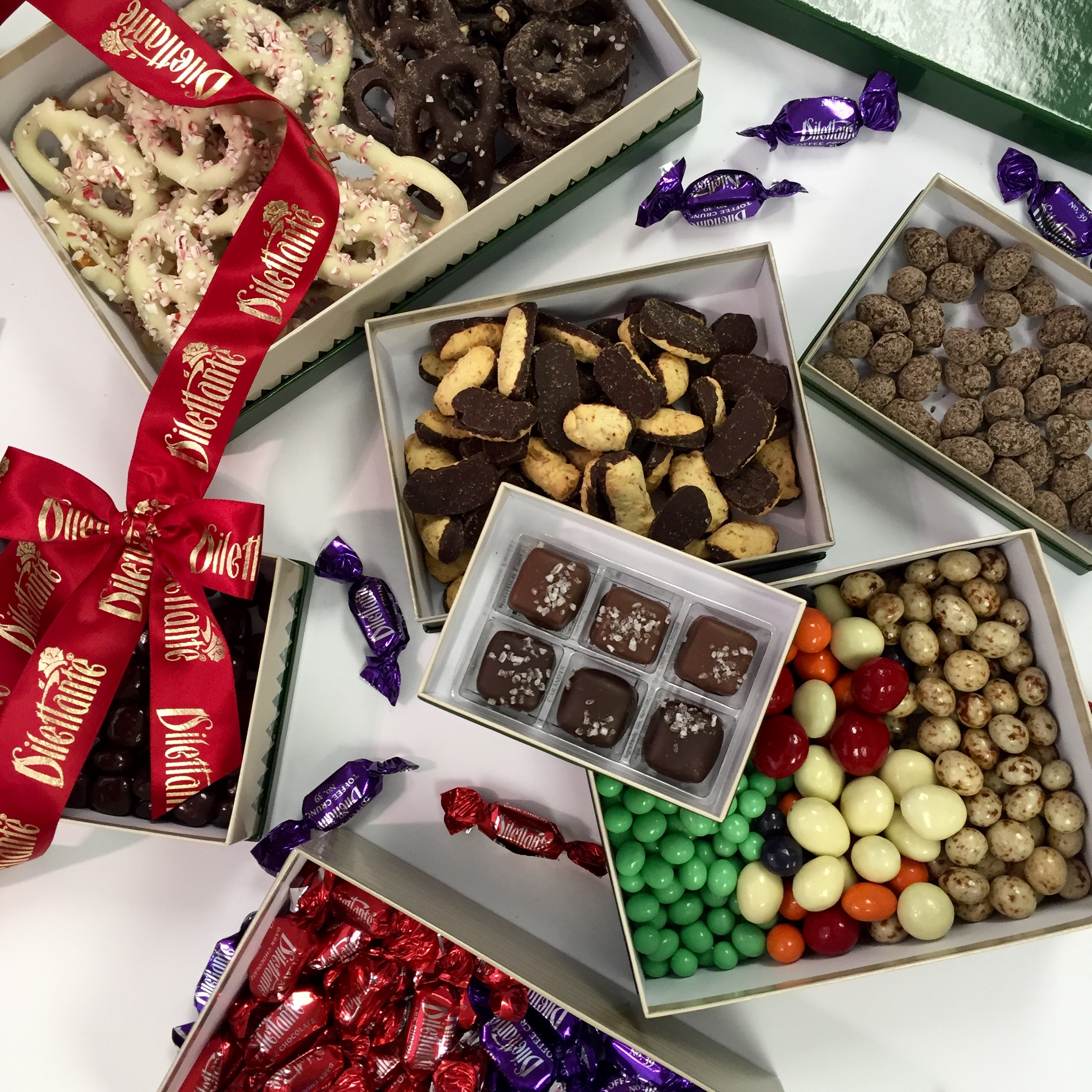 Gift Guide for my Frugal Friends
There are 18 days left until Christmas. For some of us, that's good news. For others, it puts them into a panic. Maybe you're pressed for time because you have several gifts to buy before the big day. Or maybe you mismanaged your finances lately and aren't exactly strapped with cash right now. Regardless of your circumstances, I'm here to help. Here are a few of my go-to gift ideas when I've forgotten to budget a particular gift.
Holiday Tower — I was actually gifted with this at work. It's presented so beautifully, I had to figure out where it was from. The gift receipt was from Costco. So I did a little digging, and I was pretty pleased when I saw the price. It comes with 7 boxes of goodies. Everything from chocolate covered pretzels to salted caramels. They're stacked up according to size and tied with a big pretty red bow. I found it on sale for $59.99 for a limited time

. A vendor sent it to my department at work and it's plenty for us to share. I recommend this for coworkers to share or even a family gift. Here's a little hint… If you're crafty, you can totally make this yourself for a lot cheaper. Just give yourself plenty of time in advance.

 

Target Dollar Deals — Never admit this to the person you're gifting, but Target has some awesome Dollar Deals. I always make a point to walk through it, just to see what I can find. If you've got a toddler or a younger niece or nephew, you're bound to find a couple of knick knacks or toys in there for suuuper cheap.
Hautelook

— I was introduced to this website/app a year or so ago. And it's a life changer.  It's Nordstrom Rack on steroids. Extremely discounted items at unbelievable prices. I'm talking

name brands

. You have to keep an eye out because these "events" are a limited time. You've got to be an online shopper, because it's not an actual store. But Nordstrom is a company that I've always put my trust in.

Bath and Body Works — I totally wait for the sales and go nuts. I'm a sucker for scented candles. Bath and Body Works has quality stuff, and when they have their sales, the prices are great. Right now

all of their 3-wick candles are $12. They're normally $20+. They last me forever, so I'd say it's a steal. Candles, lotions and body washes are always good gifts for her (or him).

DIY — I love putting gifts together myself. It usually ends up being less expensive than if I were to actually go out and buying one really big gift. Take a coffee mug, mason jar or a tumbler, and fill it with inexpensive but useful items.This can work for a girl, guy or even one of the kiddos.

 Chapstick/lip balm (Who doesn't use chapstick?)
A mini hand sanitizer or hand lotion to keep in the car or in your purse
Nail polish works for girls
$5-$10 Giftcard to Starbucks or iTunes for a teenager
Pens and/or pencils (you can totally use crayons or markers for little ones)
Candy (for all ages, if you ask me.)
Keurig coffee cups for the coffee drinker
Cute bracelets or earrings 
 What are some of your go-gifts when you're on a budget? I'd love to share some! J