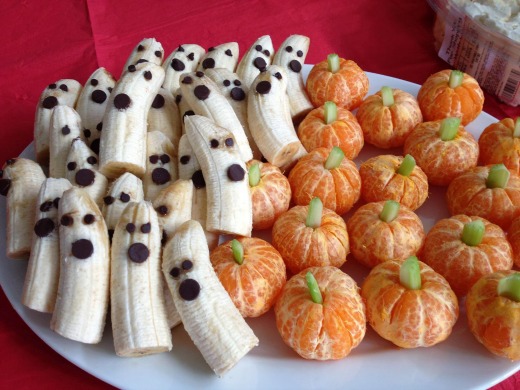 4 Healthy Halloween Treats
Trick-or-treating for Halloween means lots of candy and unhealthy snacks lying around the house for the next couple weeks and my kids want to eat it all so it can be a struggle to feed them anything else. Luckily they can easily be enticed with treats that are Halloween-themed. So I've compiled some treats that I'll be making for the family to help combat the mounds of candy that trick-or-treating will bring.
Fruit monsters — There are a variety of snacks that can be made using mainly fruits. Tangerine pumpkins are made with small tangerines/oranges unpeeled and then topped with a celery stick in the center for the stem. Banana ghosts just need halves of unpeeled bananas and then three chocolate chips for two eyes and a mouth. Frankenstein kiwis can be made by cutting kiwis into cubes and then using chocolate as the bolts and faces.
Witches broomsticks — These will only need pretzel sticks and string cheese. Cut the string cheese into halves or thirds and then cut the bottom half of those parts into strips. Stick a pretzel stick in the top whole part and voila! -an instant broom has been made.
Carrots in a Pumpkin shape platter — This is an easy one. Just get a large platter or plate, a bag of mini carrots, some olives or grapes, and cucumber. Arrange the carrots in the shape of a pumpkin and use the grapes/olives to create the eyes, nose, and mouth. Then finish it off with a couple sticks of celery at the top for the stem.
Candy corn popsicles — These will probably be my favorite. Using a popsicle maker or plastic cups with popsicle sticks, the first layer will be plain or Vanilla yogurt. The second layer will be orange juice and the final layer will be pineapple juice.
Halloween doesn't mean only junk food, candy, and unhealthy things. You can easily make some healthy snacks to combat all the candy your kids might eat! What are some healthy treats that you'll be making for Halloween this year?